Here's a little speed tip from the Kaikoura Coaching Trip we did back in March. I'm not going to talk about stance in this post, although that is a very important piece of the puzzle when it comes to speed generation too. This tip is all about Going with the Flow….
For days we had this perfect little testing ground for speed generation and it was pretty much get it right or get left behind in the wash.
The waves weren't big or powerful – yes there was plenty of opportunity to generate speed, but you couldn't just rely on the downward force of gravity to give you speed as there wasn't much of that downward force.
But these waves were pushing along the edge of a shallow boulder bank and the water would draw upwards off the reef quite quickly in the pocket before folding off down the line.
Use the Upward Flow to Generate Speed
So we were talking about tapping in to that upward flow of water as a means to generate speed, in these kind of waves it's really important. So think about going with that flow of water by being as light as possible as you climb the face.
I've noticed some people struggle to climb the face and they keep their arms too low which greatly limits speed creation. After many times telling people 'lift your arms' or 'extend your body', still no change. But then I realised it's because they had nearly all their weight on the front foot because they thought that would create the speed.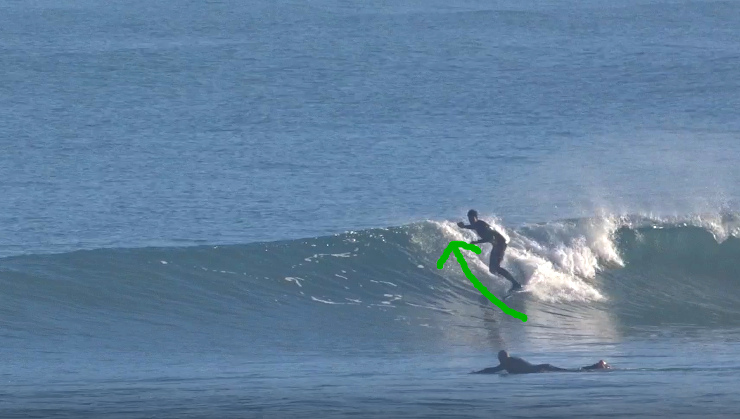 But on the climb you need to push off with the back foot on the toe rail(use the arch of your foot). Then you'll stand tall easier and your chest and arms will lift too. You'll be lighter, get higher, and get more speed from alignment with that flow.
Lift, Roll, Compress to Front Heel
Then as you're rising you're already starting to roll on to the heel rail (ankles help do this) of your front foot as you suck your board up under your body (knees to chest). You'll also be starting to lean forward so that just before the top you'll be compressed again with nearly all weight on your front foot heel rail.
From there you can stay compressed as you drop down to the bottom of the wave, rolling on to your toes and straight in to a bottom turn. Or you can repeat the process with another climb if the wave is still racing off or if you still need more speed to do a decent turn.
An Example of Progress from the Camp
In this before clip you'll see Dave gets some speed but his arms are low. He said afterwards that he was consciously wiggling his front foot rail to rail for speed. I think he could have tapped a lot more speed on this wave, especially early on:
Afterwards we did some Smoothstar skateboarding to sort the back foot lift and then in this after clip you can see much improved results and his arms lifting much higher. He said it was much easier to roll rail to rail quickly too:
By the way Dave is a big guy at around 6'2, so to be able to take a higher line and get this amount of speed on such a small wave was a good breakthrough and gives him some more options with his surfing.
He could still improve by sucking the board up under him and leaning forward more in to the compression as Jeremy Flores does in this little clip below. Or another way of thinking about that is to not only climb the wave by pushing the back foot, but also to thrust the front hip forward down the line of the wave.
But it's pretty damn good as it is and this was a few months back so I'm sure he's got it dialed in now!!
So give that a go, as you can see it's something that can be improved very quickly. There are a few different nuances for different types of waves, but the principles above remain similar.
If you're at a level where you'd benefit from these kind of topics, check out our Intermediate Surf Coaching Camps