Since we are based just 2 hours from Auckland a lot of our customers are from there. And once they've completed their beginner courses with us, we usually end up writing them an email with information on Auckland's best beginner surf beaches so that they can continue learning smoothly on their own.
The thing is, Auckland's surf spots are very diverse, and to be honest it's not the easiest place to learn to surf. I grew up there myself so thought I'd share a few tips on where and when to go surfing, not just for safety reasons but to ensure you get the best conditions for improving your skills quickly.
As a beginner you want to chase waves that are small and gentle, that way you can get out the back rather than being stuck in the whitewater. So don't just go when your experienced friends say it's good, or when the surf2surf report says it's 7/10 or higher. Read on and find out what to look for in the forecasts.
We'll start by looking at all the surf zones in and around Auckland, and then go through a few must dos when learning in the big city.
The Auckland Surf Zones
In many ways Auckland's layout is similar to Sydney. They both have a city located on the south side of a harbour, with beautiful beaches lining the northern and eastern shores.
But unfortunately Auckland is not a surf city like Sydney because two things get in the way, one is the Coromandel Peninsula, the other is Great Barrier Island. These guys block all swells from the SE and E direction, and nearly everything from the NE direction too.
Damn.
But despite the lack of surf close to the city centre and suburbs, there are a wide range of spots in the wider region which has several distinct zones, so let's learn about each one…
The North Shore
As we've already talked about, the North Shore surf spots hardly ever work, but what makes this even harder to deal with for local surfers is the fact that these beaches from Takapuna to Long Bay are home to some of the best reef and pointbreak setups in the whole region. See the main photo above, that is what a good day can look like.
So 360 days of the year you will probably only get to Mind Surf these spots. But they are there, laying dormant, just waiting for a swell to sneak through the Hauraki Gulf's outer islands.
As a beginner you will probably have the best time at Takapuna beach, Mairangi Bay and Long Bay because they offer sand bottoms with a gentle profile which means the waves break quite soft too. Then as you improve you can start to check the reefs at Milford and Takapuna's North End but you will need to be ready for intense crowds and sharp lava rock pillars, so make sure the tide is pretty high.
Ideal forecasts for surfing Auckland's North Shore Beaches:
Strong NE winds for a few days in a row will kick up the classic 'Stormy', that means chest to head high onshore lumpy waves. Good for practice and a rite of passage for Auckland surfers.
A large NE groundswell from a storm or tropical cyclone positioned to the NE of the North Island. This is the ideal but it is very rare, once in a blue moon.
The swell needs to be BIG, the bigger the better. If Northland and Coromandel are 6m + then the shore will be pumping at head to head and a half. When this happens you want as little wind as possible for clean conditions. Sometimes you get that glassy window, often the winds will be a bit SE so you need to find a sheltered spot. The reef breaks can get really good on these kind of swells.
The Northern Coast
This is the stretch from the Whangaparaoa Peninsula up to Ruakaka, the drive time varies from 25mins to Orewa up to 1 hour 30 mins to Waipu Cove, and the surf spots vary greatly too.
They are mainly beach breaks and sandbar breaks but they all face different directions and work in different forecasts.
The one thing they all have in common is inconsistency. They break a lot more often than Auckland's north shore beaches but they will still go dormant for weeks and even months at a time. The summer months tend to be more reliable.
The pick of these spots for Learning to surf are Orewa, Tawharanui, Omaha beach or bar, and Waipu Cove. On the right day these places can be absolutely magic for learning to surf. Sand bottom, no real dangers and gentle peeling waves with beautiful surroundings. As a beginner you can actually get comfortable in these lineups without the fear factor of the west coast. The rips are often weaker and there is less water moving around.
Other people might stare you toward the surf beaches of Foresty, Te Arai and Mangawhai Heads but in my experience those spots are all quite hard and fast breaking because the beach profiles are much steeper. Better for the more advanced surfers on most days.
Ideal forecasts for surfing Auckland's Northern Coastline:
Orewa needs a massive swell as it is almost as sheltered as the North Shore, but the others will start to work with any kind of low pressure system sitting off the coast.
Tawharanui and Waipu will need a N or NE swell to get in, Omaha will be worth a look in an E swell but a large NE will get in there also. The best winds will be SW or W.
The West Coast
The wild west is home to Auckland's most famous surf beach Piha, and others like Muriwai, Kare Kare and Maori bay.
Unlike the east coast zones where you are waiting for a big enough swell, out west you are often waiting for a small enough swell, and that goes for the experienced surfers too.
There are 2 reasons for that. Firstly, if you look at a map you will see there is nothing standing between these beaches and the southern ocean storms rolling under NZ. So there is SW swell on tap, it is never flat. BUT, these beaches can't actually handle much swell. Once it gets over 2.5 metres the waves just closeout, it's a big whitewater washing machine.
So the good surfers are waiting for swells in the head high to at most double overhead range, and they want winds from the easterly quarter. In winter and spring this combination can be rare, but in summer and autumn it is reasonably common.
As a beginner or novice surfer, you want to wait for it to get even smaller. Because not only are these beaches exposed to a lot of swell, they also have steep profiles which means the waves come out of the deep and slam hard on to shallow sand banks. Fun for good surfers but an injury waiting to happen for beginners on big boards.
So you must pick your days and tides right and then you might just score some mellow peeling waves more like what you'd normally see on the east coast. Back in the day I used to get these conditions more often at Muriwai and North Piha. Also be wary of rocks and currents at all these spots, the rips can be intense. Take a surf buddy for sure when learning to surf out west.
Ideal forecasts for learning to surf Auckland's west coast beaches:
Seriously, look for a tiny swell like 0.5 to 1m max. SW swell will be more predictable, NW swell more peaky and random but both can be great.
NE to SE winds, light is good, so the summer mornings are a good option.
From what I remember, mid to high tides usually offer fuller, slower breaking waves.
The Coromandel Peninsula
Yeah not technically Auckland at all I know, but as an Auckland surfer Coromandel is definitely going to be on your hit list. There are those days when the northern coast is just a touch too small to surf, but the Coro might be a foot or 2 bigger and worth the drive. Some spots are within 2 hours, others more like 3.
Expect conditions more like the Northern Coast of Auckland but again you want to hunt the more gradual profile spots because there are some absolute thumping beachbreaks that are not friendly for novices at all!
So head to Pauanui's South End (in the pic above), Waihi's North End, Matarangi when the swell is quite big, Whangamata Surf Club end, or go explore for a secret spot. Be very wary of Tairua, Hot Water and Whiritoa, they are often experts only.
The other bonus about the Coromandel is there are options for beginners even in a massive swell. You just need to look at the map and go to the places that are a bit protected from the swell direction.
Ideal forecasts for surfing the Coromandel:
Swell directions from NE to SE and wind directions from SW to NW.
You will often get a low pressure system just sitting well off the east of NZ and these can sometimes provide days of swell to Coromandel with light winds throughout.
Raglan
When I was learning to surf in Auckland we didn't hit Raglan all that much because we knew it was rocky pointbreaks and powerful waves, generally best for experienced surfers. But it also has a beach break with a mellow profile that consistently has good waves for learning. It's less then 2 hours drive form Auckland on the new expressway too.
Just make sure you come on small days (like below) as there will be less good surfers out and the paddle out will be easier. There is no real channel on big days which can make the paddle hard on a big board.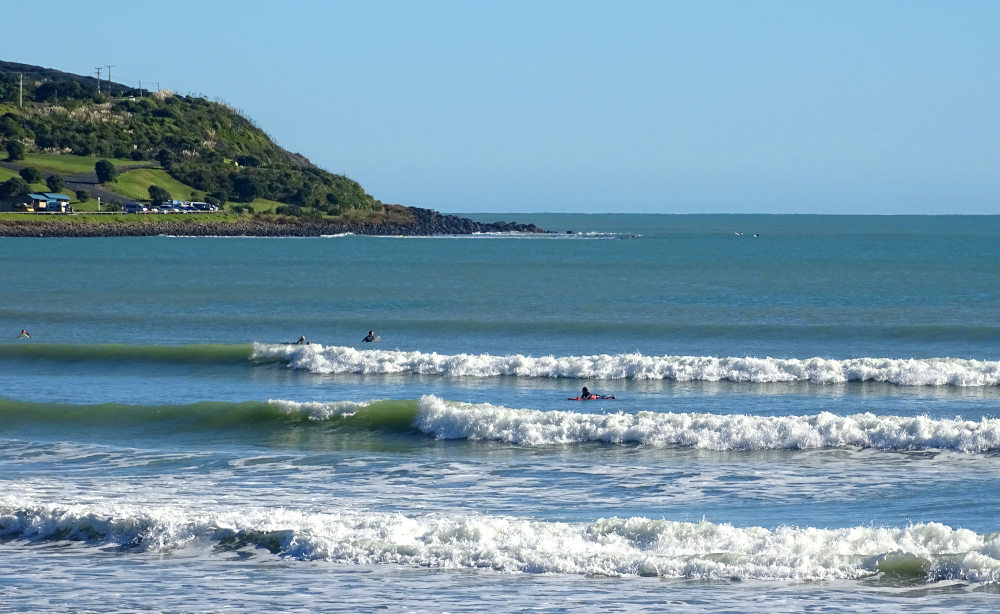 One thing to note is that the Raglan beach is always a bit smaller than Auckland's west coast. So if Auckland is a touch out of your league and the east coast is flat it could be worth heading south.
Ideal forecasts to watch for:
SW Swell in the 1 to 1.5m range, winds from NE to SE or even light SW and W (high hills offer extra wind protection)
Must Dos when Learning to Surf in Auckland
When learning to surf in Auckland you need to be on the pulse to ensure you keep the momentum going, here are a few extra tips to help with that:
Overcome the inconsistent conditions
Ideally you need to be getting out twice a week to make progress with surfing, so make sure you don't miss those good swell conditions. Setup alerts so that you get an email when those rare good size east coast swells are approaching. I use surf-forecast.com to setup email alerts in advance of swells.
Understand forecasts and never leave home without checking it
If you live in front of a beach forecasting isn't as important, but as a surfer in Auckland you need to become a forecasting guru, no way around that. And don't just drive out west or follow your mates out to have a look. You'll end up out of your depth, know before you go. It will save your petrol money too.
Enjoy the variety
When I look back at my youth and learning to surf in and around Auckland, the best thing about it was the variety, not just the different beaches but also the landscapes. You will enjoy some seriously beautiful places which on their day can be world class. From the champagne like water at Tawaharanui to the long and mellow leg burning lefts at Omaha Bar (when the sand is good!), and those west coast days when the black sand is scorching hot and you end up surfing in deep blue water with Pohutukawa backdrops.
Develop a land based routine for staying surf sharp
It can be a while between surfs, especially in Winter and early spring. One year I counted 6 weeks straight with no surfable waves on offer in the whole region. Of course you are going to get rusty when that happens but these days there are some things you can do to stay ready for your next session.
One thing I recommend for those who are still learning to surf is regular pop up practice on land. Setup an old board with a downward slope to mimic the wave shape and practice on that. Just make sure your technique is good by copying some slow motion footage of a pro. Don't copy a YouTube tutorial on the Pop Up, it is a minefield filled with conflicting advice. If in doubt hit us up for a coaching session.
Next, look into getting a Smoothstar Surf Skateboard. They let you practice your turning in exactly the same way as you do on a surfboard and they are a whole lot of fun too. Auckland has no shortage of concrete so go find a slope that looks like a wave and carve it up! Don't get too tricky. As a beginner you just need to practice mellow rail to rail turns and aim to develop muscle memory that will pay off when you're next in the water.
Don't be afraid of a light onshore wind
Since the Auckland region isn't always pumping, you don't want to be too picky about wind directions. I have listed the ideal offshore wind directions above, but a light onshore or side shore wind never hurt anyone and they hardly even ruffle the surface. So if the swell is up on the Northern coast but the winds are light onshore, as long as it is say 15 knots or less I would say it's still worth the drive. there might be less of a crowd too.
Don't be a sheep
Every time you surf you should take 5 minutes to observe what is happening. You will often see people sitting in packs on particular parts of the beach, and since Auckland has nearly 2 million people now, these packs can be intense. As a beginner in the pack your wave count will be low, your frustration level high.
So rather than going where the other people are, learn to trust your own judgement by watching the waves not the people. What are the waves breaking like in each area of the beach? Are they big closeouts? Are they breaking hard or soft? Are they peeling slower in some areas than others?
The ideal area for you as a beginner is quite possibly uncrowded because the good surfers can see a harder, faster peak up the beach. So don't follow them, go to the area where the waves look good for your level.
And if there is no one out there, just check for dangers, are there rocks? a strong rip? No, then you should be good to go out there.
So that's it, keep an eye on the forecast and whatever you do, never miss a NE cyclone swell!